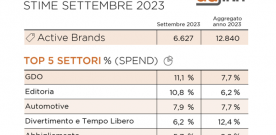 Milan, 9 October 2023 – The month of September for the Italian digital advertising market - according to data collected by adjinn, an independent multinational of digital advertising measurement and benchmarking data – saw 6,626 brands in advertising campaigns distributed across display, video and native formats, marking substantial parity compared to the same month last year (-0.5%) and a natural economic increase (+2.2%) compared to August this year, in line with the seasonality of the market and the end of the period summer.
"Our findings – underlines Alberto Dal Sasso, Managing Partner of adjinn – show how in the month of September the distribution of digital advertising investment among advertisers sees display steadily prevail with an estimated share of 75.7%, followed by video which maintains its share at 23.7%, the native closes with a residual 5%."
Regarding the sectors with the greatest investments in digital advertising, 'GDO' leads the September ranking at 11.1%, in line with the return from the holiday period and the approach to the last quarter of the year. This is followed by the 'Publishing' sector (books, music and newspapers, television publishers, films, TV series), very active in September due to the resumption of the television and sports season at 10.8% and the 'Automotive' sector which maintains its share constant in the cumulative period (7.7%). 'Leisure & Entertainment', despite seeing its share reduced compared to the cumulative figure, considering the end of the summer, represents the fourth sector in terms of investment with a share of 6.2%, followed by 'Clothing' with 5, 7%.
The investment management method between direct and programmatic sees the prevalence of direct confirmed with 53.2% against 46.8% of programmatic, while in the choice of devices, September sees brands preferring the use of both – desktop and mobile together – with 37.1% share. Mobile only at 34.2% and finally desktop only 28.7%.
.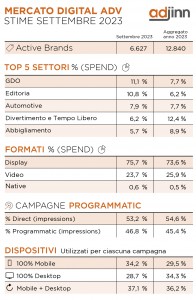 .
Press office adjinn in Italy
Purple & Noise
ufficiostampa@purpleandnoise.com
djinn is an independent multinational company founded in 2015, which offers advertising measurement and benchmarking data services. The company, whose headquarters is located in Madrid, operates in 33 countries including Italy, where managing partner is Alberto Dal Sasso. adjinn has proprietary tracking technology based on big data and machine learning that allows timely and complete monitoring of the digital advertising activity of any brand, on a global and/or local scale, in a simple, fast and intuitively usable way. Supporting the digital advertising ecosystem – companies, publishers, agencies, media centers – in monitoring, planning and optimizing advertising communication is the company's mission. www.adjinn.com
Share
Articoli correlati
About Author
(0) Readers Comments