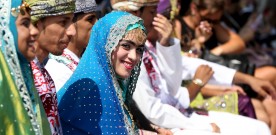 OMAN BUSINESS FORUM
Milan, September 17th, 2015
Palazzo Giureconsulti – Piazza Mercanti, 2
.
09.00 – 09.30 REGISTRATION
09.30 – 09.40  OPENING ADDRESSES
Alfredo Zini, Member of the Board, Milan Chamber of Commerce
Mohsin al Balushi, Commissioner General, Omani Pavilion in Expo
.
09.40 – 11.15  TECHNICAL PRESENTATIONS
Moderator: Gianluca Marcangelo, PR Director & Protocol Officer, Sultanate of Oman Pavilion
Supreme Council for Planning
-Talal Al Rahbi
The Public Authority for Investment Promotion & Export Development (ITHRAA)
-Lamya Al Habsi, Director of Industrial Investment
Special Economic Zone At Dumq
-Jalal Al Lawati, Promotion Manager
Port of Salalah
-Ahmed Akaaak , Executive Vice President
Oman Food Investment Company (OFIC)
-Saleh Al Shanfri, Chief Executive Officer
Omran
-Salah Al Ghazali, Acting Chief Investment Officer
State General Reserve Fund (SGRF)
-Muneer Al Muneeri , Investment Manager
Oman Rail
-Imad Al Khador
GM Strategy, Planning
.
11.15 – 11.30 COFFEE BREAK
11.30 – 13.30 FREE TIME BUSINESS TALKS
13.30 – 14.30 BUSINESS LUNCH
.
For informations and accreditation:
PURPLE & NOISE PR
Share
Articoli correlati
About Author
(0) Readers Comments