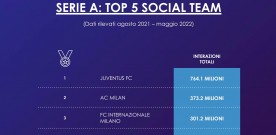 Milan, 6 June 2022 – The English Premier League is the most social of the 2021-2022 season. Followed in second place by LaLiga and Lega Serie A in third, which however recorded the highest rate of growth in social engagement among European leagues, compared to the previous season, and the second highest rate of new followers acquired.
This according to Talkwalker, a multinational global leader in Social and Consumer Intelligence, which daily measures the main federations, teams and athletes globally in terms of presence, interactions (engagement), followership and partnerships on social networks.
Considering the official accounts of the leagues of the European championships, the Premier League in the 2021-2022 season (survey period: August 2021 – May 2022) 696 million interactions worldwide, with an increase of + 23% compared to last season. In second place we find the LaLiga, down by 30%, with a total of 499 million interactions, then on the third step of the podium the Lega Serie A which with its social profiles has generated 100 million interactions. Serie A is the league that obtained the highest engagement growth compared to the previous season, with a boom in interactions of 66% and a growth rate of new followers of 18% (21.3 million in total), second only to French Ligue 1 (26%). The Bundesliga closes the Top5 of the most social football leagues with 91 million interactions (+ 49% on last season) in fourth place and in fifth Ligue 1 with 25 million interactions (+ 21% on last season).
"European football is a great promotional vehicle for global and local brands – underlines Stefano Russo of Talkwalker – During the season we measured the performance of 2,800 social partnerships between 720 companies and all the football teams and teams / leagues of the five main leagues. Europeans. Overall, the English and Spanish leagues are those that have guaranteed their partners the best results in terms of engagement. But Italian football does not look bad at all and we like to underline the result of Lega Serie A's partnership with Frecciarossa which recorded the highest number of views among all those conveyed by the accounts of the European leagues this season. "

IN SERIE A LEAGUE, JUVENTUS QUEEN OF SOCIALS. THE MILAN CHAMPION OF ITALY GROWS MORE THAN ALL
 Juventus with over 764 million social interactions is, on the other hand, the queen of the Lega Serie A championship, ahead of the new Italian champions AC Milan who stop at 373 million interactions. On the third step of the podium there is Inter with an engagement of 301 million, followed by Napoli (80.5 million) and Roma (79 million).
 "Even from the point of view of followers, the ranking in the first three positions remains unchanged – explains Stefano Russo of Talkwalker – with Juve dominating the ranking with 111.6 million followers, followed by Milan with just over 48 million, but with, accomplice the victory of the championship, the highest growth rate of followers among Italian teams, compared to last season, which stands at over 8%. Then follow Inter with 42 million followers, Roma with 17 million and Napoli with 9.9 million followers. "
Press office talkwalker in Italy:
Purple & Noise PR
ufficiostampa@purpleandnoise.com
Share
Articoli correlati
About Author
(0) Readers Comments