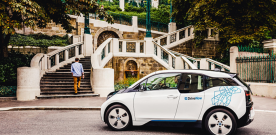 Milan 13 December 2017 – A total of 540 tonnes of CO2 have been spared in Milan in 2017, thanks to the use of the 500 Bmw and MINI in DriveNow car sharing as an alternative to private cars: the equivalent of well 700 trees. *
"A beautiful gift for a city that has often defied the limit of PM10 allowed and increasingly needs to become more familiar with more sustainable forms of mobility such as car sharing" – comments Andrea Leverano, managing director of DriveNow and longtime expert in subject to shared mobility. – "Above all as a facilitator of an intermodal mobility that foresees a mix of use of public transport and shared vehicles".  
The calculation originates from the sum of the CO2 reduction resulting from the greater efficiency of the DriveNow fleet – all new and Euro6 (and some even 100% electric as the BMW i3) that have emissions significantly lower than the average of the Italian fleet (over 30 % less) – with the one generated by the reduction in journeys by private vehicles following the introduction of car sharing in the daily mobility mix of citizens.
The National Observatory Sharing Mobility **, realized among others in collaboration with the Ministry of the Environment, calculates that the adoption of car sharing induces a reduction in the use of private cars in a value between 16% and 20%.  The calculation is also prudent since experience shows that those who use DriveNow tend to limit their use to the actual need, often combining it with other forms of mobility, such as walking, cycling or using public transport.   "In this sense car sharing, bike sharing and public transport – concludes Andrea Leverano - if used in an intermodal logic can be perfect allies in offering a real mobility alternative to the super use of private cars".
.
* (CO2 x 1,2987) http://www.unboscoperlacitta.it/files/Calcolo-della-Biomassa-necessaria-all-assorbimento-della-CO2-emessa.pdf
 ** Osservatorio Nazionale Sharing Mobility, in collaborazione con il ministero dell'Ambiente e della Fondazione per lo sviluppo sostenibile (2016) http://osservatoriosharingmobility.it/
.
DriveNow press office Italy
Purple & Noise PR
tel. +39.02.45474.006
ufficiostampa@purpleandnoise.com
Share
Articoli correlati
About Author
(0) Readers Comments