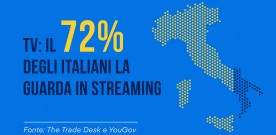 Milan, February 2023 – Recent years have been characterized by a succession of changes in the consumption habits of television and video content, regardless of whether they are films, programs or sporting events. New ways of using them which, if on the one hand were already in place, on the other hand the pandemic has significantly accelerated their development, with the result of making traditional TV no longer (not for everyone) the first choice in terms of content .
This is what emerges from a study conducted by The Trade Desk, a leading global advertising technology platform and YouGov, an international market research company and data-analyst, on how the habits of using streaming content are changing and how the trends of display will generate opportunities for marketing and advertising. From the survey it can be seen that 72% of all Italian viewers say they have watched, combined with traditional methods of use, streaming content in the last year, a percentage that rises to 85% if the age group is considered 18-34 years old. And nearly half (48%) of those who choose to stream content spend up to two hours a day watching their favorite shows.
The study also shows how viewing these contents is no longer just an experience to be enjoyed in the living room at home. In fact, if 93% of those interviewed say they watch them in streaming on their TV, more than 50% of young people between 18 and 34 choose to use their favorite programs on their mobile phones and on their laptops; this demonstrates how consumers in Italy appreciate the flexibility offered by streaming combined with the possibility of watching content at any time and in any place they want.
Without any surprise, then, the data that emerged which refers to consumption habits divided by age group. In fact, those interviewed aged 55 or over still showed a clear preference for traditional television: in the last year, as many as 86% of the over 55s said they tuned into traditional TV compared to 63% who watched streaming content.
With a growing production of premium content, films, TV series, but also sports programs and events, this new television "golden age" is accelerating the transition to streaming, not only in Italy, but all over the world. Consequently, many broadcasters, even in Italy, are investing in streaming platforms, both in the aggregation of content and with the production of original content, offering greater choice and maximum freedom of use; and the viewership data confirms it. In fact, in the last year, 47% of Italian viewers, in fact, said they spend more time streaming and 49% spend less time in front of traditional television.
"The research once again confirms the fact that the viewer/consumer is on CTV and it is this that the world of investors is now looking at – comments Rocco de Filippis, Director Business Development of The Trade Desk – In Italy programmatic advertising, i.e. the automation and optimization of the purchase of advertising units in order to send the right message, at the right time and to precise audience segments identified through careful targeting, has had good development but is still lagging behind more advanced countries . Platforms such as The Trade Desk make it possible to bridge this 'structural' gap and project the company into an advertising dimension never seen before: targeted, profiled at the highest levels, with tens of millions of planning opportunities globally not only on the TV, but also PC, mobile, DOOH, all with respect for consumer privacy and investor data.
Press Office The Trade Desk Italy
Purple & Noise PR
ufficiostampa@purpleandnoise.com
Share
Articoli correlati
About Author
(0) Readers Comments