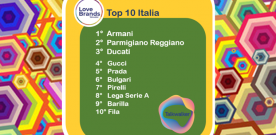 Milan, 8 June 2021 – Armani is the most loved brand in Italy according to the LoveBrands ranking by Talkwalker – multinational leader in Social Listening and Analytics, which has been operating since 2009 with over 350 experts from offices in Luxembourg, New York, San Francisco, Singapore , Frankfurt, Paris and Milan – followed by Parmigiano Reggiano, Ducati, but also Gucci, Prada, Bulgari; and with Lega Serie A entering a ranking by brand for the first time.
Excellent is also the performance of Piaggio and Perugina who are positioned, the only ones to represent Italy, in the world LoveBrands Top50, respectively in 26th and 36th place, in a ranking that sees the world survey in first place Huda Beauty, in second Moulinex and then MAC Cosmetics, but which also sees superbrands such as Spotify, Mattel, Revlon, Mango Huggies, Swiss, Sephora.
The research – which analyzed 1,228 brands in different countries through social media, news, blogs, forums and other channels of interaction – measures the ability and dedication of brands to establish a real emotional relationship with their consumers and, to downstream of the process, it generated the Top-50 world ranking and the Top-10 of the countries, including Italy, in which the survey was conducted.
"Measuring the concept of love through social listening is understandably almost impossible since these are intangible metrics – explains Francesco Turco Marketing Executive Talkwalker – However, it is possible to observe the symptoms that demonstrate one's passion for the brand, such as positive sentiment, words focused on the theme of love, emotion, joy; and obviously engagement, that is the ability to keep the relationship alive and always renewed".
So here is the Talkwalker LoveBrands Top10 Italy ranking:
1st   Armani
 2nd Parmigiano Reggiano
 3rd  Ducati
 4th  Gucci
 5th  Prada
 6th  Bulgari
 7th  Pirelli
 8th  Serie A League
 9th  Barilla
 10th Fila
"We are really happy with this recognition that comes from world-class excellence in the field of social listening such as Talkwalker – says Luigi De Siervo, CEO of Lega Serie A - To be at the top of the Italian" LOVEBRANDS" rankings together to iconic brands worldwide such as Armani, Gucci, Prada, Ducati, Pirelli, Barilla and Bulgari is a satisfaction that repays the specific commitment of the League in communication dedicated to fans and on social media, in creating empathy, involvement and passion. towards his favorite team, but also towards the whole eco-system, including values, of Serie A. It is a great result – continues De Siervo – which rewards the marketing positioning path that we are building with projects such as the eSerie A TIM, the Lega Ambassadors team and social responsibility initiatives such as a "Red to violence", "Keep Racism Out" and "Quarta Categoria", dedicated to Paralympic football". 
"Also in 2021 we are among the most popular brands in the world and we confirm ourselves as the second brand ever in Italy: consumers recognize, and reward, the uniqueness of Parmigiano Reggiano – comments Nicola Bertinelli, president of the Parmigiano Reggiano Consortium – Also thanks to choices and behaviors that aim year after year at improving the supply chain: on the one hand by protecting the characteristics of a millenary product and on the other by encouraging companies to adopt solutions in line with consumers' expectations "
Share
Articoli correlati
About Author
(0) Readers Comments