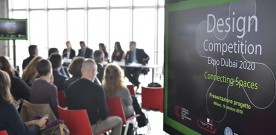 Milan, 15 October 2018 – In a crowded context of designers, students, companies, institutions, academics and experts, gathered on the top of the Pirelli Skyscraper – one of the most appreciated Lombard architectural works, signed by the Milanese Gio Ponti icon of world design – Regione Lombardia, with the Councilor for Tourism, Territorial and Fashion Lara Magoni, and Milan Chamber of Commerce Monza Brianza Lodi, with the General Secretary Elena Vasco, today presented "Design Competition Expo Dubai 2020″, a call for ideas for teams composed of young designers and companies for the development of an innovative project, which will take place at the Universal Exposition
The Project – which this year reaches the seventh edition – has as its object the design of innovative projects and the creation of the related prototypes, the result of collaboration between Lombard companies and designers under 35 (including students, individually or in groups), which they interpret in an original way the theme of Expo "Connecting minds, Creating the future", focusing on new paths of development and innovation related to the sub-themes "Sustainability, Mobility and Opportunity".
The 20 best project ideas, selected by a jury composed of representatives of project partners and international experts, will be awarded with a grant of up to 20,000 euros to be allocated to the companies involved in the project for the realization of the twenty best prototypes. The winners of the competition will especially be offered the opportunity to exhibit what has been done in important locations in Italy and at design events, to present to the Commissioners involved in the construction of the Country Pavilions and the Emirate market and finally exhibit in Dubai on the occasion of Expo from 20 October 2020 to 10 April 2021.
Press office:
Purple & Noise PR
ufficiostampa@purpleandnoise.com
Share
Articoli correlati
About Author
(0) Readers Comments