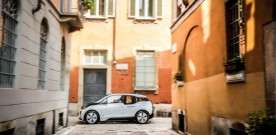 Milan, 28th November 2018 – The figure that emerges from the survey "And if I told you electric?" Was realized by DriveNow, the car sharing company of the Bmw Group, which intended to explore the mood of users in terms of electric mobility .
In fact to the question "If for your rental at the same parking distance you have the possibility to choose between an electric car and another with diesel engine or petrol for which you would opt?" 80% of the respondents answered to choose the electric car. However, this percentage remains high where the electric car was less comfortable than diesel or petrol; in fact to the question "And if the electric was a few minutes walk more distant than the other cars?" 60% of the sample answered that they would still choose the electric.
The survey conducted on the customer base DriveNow – to date the only car sharing operator in Italy that offers its customers a mixed endothermic and electric fleet – in Milan in the period October 15-30, 2018 out of 880 respondents (of which 35 % belongs to the age group 21-30, about 30% of the age between 31-40 years and about 35% in the 41-60 age range) first of all confirms that car sharing is an important factor in approaching or first driving an electric car. 50% of the interviewed car sharers said they had already driven a DriveNow electric vehicle, specifically the BMW i3 in the fleet to the German operator throughout Europe.
1 out of 5 respondents then confirmed that they use electricity at least once a month. Instead 1 out of 4 are those who use it at least once in the quarter.
60% of the interviewees then added that the first absolute driving of an electric car occurred through car sharing, thus describing the value of the car in sharing in approaching the public to the most recent modes of sustainable mobility.
And good news also come from the motivations for use. To the question (with the possibility of giving more answers): "why would you choose the electric car?" 68% of the respondents replied: "because zero emissions and eco-friendly" describing a significant progress in terms of environmental social conscience.
"And this is a very encouraging fact – says Andrea Leverano managing director of DriveNow Italy – which tells how citizens are far from disinterested in environmental issues, and especially those who live in big cities have to do everyday accounts with air loaded with fine dust and noise pollution ".
Regarding this last aspect, 38% of the sample identifies the quietness of driving as one of the further benefits of electric motorization. The other determining motivations (the survey allowed multiple answers to this question) the use of the electric car turn out to be "because it is fun to drive" (40%), "because they are innovative and I love trying new things" (60% )
.
Press Office DriveNow Italy
Purple & Noise PR
ufficiostampa@purpleandnoise.com
Share
Articoli correlati
About Author
(0) Readers Comments