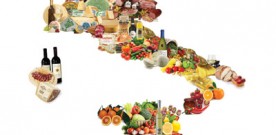 Milan, 13 February 2020 – With the exit of the United Kingdom from the European Union for Italian agri-food products (but not only), a problematic scenario is opening up which could cost dearly to the excellence of Made in Italy. Without a detailed commercial agreement between the two parties, we would witness the return of the borders with the consequent payment of duties and control of the goods that come from Italy. But guarantees on the typicality of the products are also at risk.
According to Coldiretti, who launched the alarm, 30% of Italian agri-food products would be at risk, which correspond to estimated supplies of around 3.4 billion euros (in 2019).
Italy is the European country with the highest number of guaranteed agro-food products with a designation of origin and a geographical indication recognized by the European Union. In particular, these are 823 products, 299 of which are food and 524 wines. The system also involves around 200,000 operators and 283 protection consortia.
"In order to safeguard the agri-food "Made in Italy" it is necessary to stipulate an agreement regulating a series of fundamental issues for commercial exchanges – comments Rosa Mosca of Rödl & Partner, an international giant in legal advice – and which does not derogate to some fundamental principles of European agriculture: that is, the protection of the environment and the wholesomeness of food, the protection of agriculture as such, the recognition of the origin of products and raw materials ".
"But not only – continues the expert of Rödl & Partner – the recognition of protected geographical indications PGI or protected designation of origin DOP, without agreement, would no longer be guaranteed on the British market, with the consequent progress of imitations and counterfeits of our specialty and sales risk in third countries that do not comply with European standards such as the USA ".
"Pending the desired commercial agreements – concludes Rosa Mosca of Rödl & Partner – with regard to patent rights such as collective brands, which inform consumers that the manufacturer of the goods or the service provider belongs to a specific trade association and who has the right to use the brand, such as Grana Padano or Murano artistic glass and EU certification, which are intended to certify certain characteristics of products or services, there will be the possibility within 9 months from "the UK's definitive exit from the EU to create a parallel national trademark fee, so as to have, albeit minimal, protection for Italian products in the UK".
.
.
PR & Media Relations Rödl & Partner in Italy
Purple & Noise PR
ufficiostampa@purpleandnoise.com
Share
Articoli correlati
About Author
(0) Readers Comments