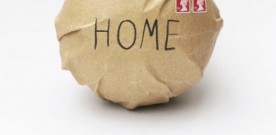 The nice advertising campaign of Royal Mail  is now going crazy on social media in which stands a ball wrapped in a wrapping paper and for the recipient 'Home', home.
The message is very clear: we are sending you home. "An excellent example of what is technically called instant advertising, that is instant advertising – explains Davide Ciliberti, communication expert of the Italian company Purple & Noise PR – or the ability to ride an event or a fact and quickly create an advertisement, generally ironic or in any case funny and viral ".
"And this – continues the expert – is and a lot. Really nice and well done. Note then – adds Davide Ciliberti – the finesse of the two stamps which, with a typically English approach, also bets on the result: a two to zero for his Majesty's team that would send us back home ".
"We are therefore waiting for the very fast reply from the Italian Post Office, to which – concludes the expert – I would recommend, in addition to maintaining the same sympathy, postage with at least three stamps"
Share
Articoli correlati
About Author
(0) Readers Comments