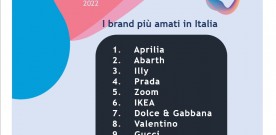 Milan, 9 June 2022 – Aprilia is the most loved brand in Italy in 2022 according to the annual Talkwalker 'Love Brands 2022′ ranking – the number one Consumer Intelligence platform in the world – followed by Abarth (Stellantis), and Illy ( Illycaffé) in third place, but also by a large representation of fashion brands such as Prada, Dolce & Gabbana, Valentino and Gucci. Zoom also enters the rankings, which Italians have come to know and love during the difficult months of the pandemic. While the Top10 is completed by two famous foreign brands which, however, find space in the hearts of Italians such as IKEA and Lego.
However, Illy's performance is exceptional: in addition to being placed at the top of the Italian ranking, he obtains an extraordinary second place in the world Love Brands (the best result ever for a tricolor brand) immediately behind Asics (in 1st place) and in front to superbrands such as Jimmy Choo (7th), Muji (10th), Bosch (19th), Palmolive (20th), Lancome (21st), Nescafé (22nd), L'Oreal (29th), Adidas ( 45th) Apple, (47th) while to find other Italian brands in the global ranking you have to scroll down to 23rd place where Dolce & Gabbana is placed, then to 32nd Missoni and Alfa Romeo to 36th.
The research, developed using Talkwalker's Consumer Intelligence ™ Acceleration Platform, together with Hootsuite, analyzed 1,500 brands in different countries around the world, for a total of 2.6 billion conversations (in the period July 2021 – March 2022) on social media, news, blogs, forums and other interaction channels. Love Brands measures the ability and dedication of brands to establish a real emotional relationship with their consumers and, downstream of the process, generated the Top50 world ranking and the Top10 of the countries, including Italy, in which the detection.
"Measuring the concept of love through social listening is understandably almost impossible as these are intangible metrics - explains Francesco Turco Marketing Manager Talkwalker for Italy - However, it is possible to observe the symptoms that demonstrate the passion for the brand, as a positive feeling, words focused on the theme of love, emotion, joy; engagement, that is the ability to keep the relationship alive and always renewed and, in this year's ranking, – Turco emphasizes – also a relevant and concrete social, environmental and economic awareness ".
Here the Talkwalker-Love Brands' Ranking Italy a 2022:
1°  Aprilia
2°  Abarth
3°  Illy
4°  Prada
5°  Zoom
6°  IKEA
7°  Dolce & Gabbana
8°  Valentino
9°  Gucci
10° Lego
Press office Talkwalker
Purple & Noise PR
ufficiostampa@purpleandnoise.com
Share
Articoli correlati
About Author
(0) Readers Comments