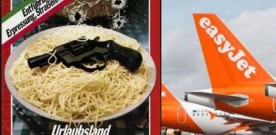 Just a few hours ago the case - Easyjet with the international carrier which – despite having positive and promotional aims of the trip – tells Calabria as a tourist destination "suffers from an evident absence of tourists due to its history of mafia activity and earthquakes "(immediate rectification and apologies of the company following the outrage on social media); but 'yesterday' was instead the French magazine AutoMoto which, to demonstrate the carrying capacity of an (innocent) SUV, was staying inside a man incorrected with a lot of the soundtrack of 'The Godfather', given that the test-drive was taking place in Sicily. McDonald's Austria, which launched a sandwich for real mobsters with a game of assonances, recently. Or in Covid's times the spot of Canal + on Pizza Coronavirus, with a 'nasty' Neapolitan pizza maker.
"Great falls in style, naivety, or provocations don't matter – comments Vicky Gitto president of the Italian ADCI Art Directors Club, the association that for 35 years has brought together the best professionals in the advertising and communication sector - It is clear that all this penalizes us, but we should start, for once, not to take it out on others and start thinking that on the subject, like Italy, we have a serious and ancestral problem of what is called our brand reputation, or the perception that the public has towards a brand."
"Let's get a point – continues Gitto – and think about the hypothesis of a great rehabilitation campaign for the Italy brand, which is generally a wonderful brand and appreciated all over the world, just think that Made in Italy is the prince and undisputed synonym of quality and beauty, where it suffers today. Precisely the perceived 'Italy-mafia. Together we identify the weaknesses that undermine our tourist appeal and work to resolve them. Quickly' ".
"Defeating these clichés I think is much more than possible, if you wish – continues the president of ADCI – But let's do it seriously it is in an organized way, with a national Authority that works on the image of the Italian brand and on territorial marketing, in consistent, coordinated and professional manner. We identify the few weaknesses of the Italy-brand and work to modify its perceived positively; also and above all at an international level ".
Share
Articoli correlati
About Author
(0) Readers Comments