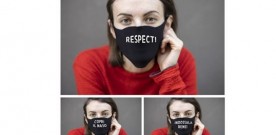 .
Who has never happened to be in a crowded street or in a public place and meet people who were not wearing, or wore incorrectly, the mask?
How many times would we have wanted to admonish that person but failed to say so, perhaps so as not to risk arguing, receiving a rude response, because the situation did not allow it? Or in any case, because "it is useless to say it to one, we should repeat it over and over".
A solution to this 'inhibition' comes from the creatives of Purple & Noise PR, who propose the "Respect!", A very simple mask with, printed or – if you want to make it at no cost – handwritten, with a simple marker, with the words "RESPECT ! "," I respect you. You respect me ". Or, dedicated to the partially undisciplined, with the words: "USE IT! PLEASE", "COVER THE NOSE".
"Advertising, it's no secret, can concretely change people's behavior. And obviously the more 'pounding' it is, the more effective it is - explain the communication experts – Imagine being in a crowded street or place and not wearing properly or not to wear the mask and to meet one, two, three, tens or hundreds of people who, instead, wear it with the slogan RESPECT !. You would not feel uncomfortable to the point of, finally, correcting the behavior in a more careful?"
Share
Articoli correlati
About Author
(0) Readers Comments