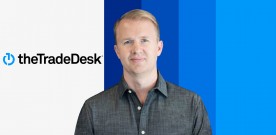 Milan, 13 November 2023 - The Trade Desk (Nasdaq: TTD), a global advertising technology platform, also present in Italy, in the third quarter of 2023 totaled revenues of 493 million dollars, describing a growth of +25% compared to the same period in the last year. "The third quarter also marked another exceptional result for The Trade Desk. A performance that confirms how much precision, agility and transparency contribute to maximizing the results of advertising campaigns. In the most intense period of the year and with an eye already to 2024, The Trade Desk is in a very favorable condition to increase its market share in the Total Addressable Market which incubates 1000 billion dollars. Moreover, in a context that shows an increasingly marked generational shift to CTV" states Jeff Green, co-founder and CEO of The Trade Desk.
Through The Trade Desk, which entered the Nasdaq-100 on July 17, it is possible to plan, manage and optimize advertising campaigns on all digital formats – including display, video, audio and native – and on a variety of devices, including desktop , mobile, tablet, connected TV, DOOH. The integration into the platform of the main editorial companies and data suppliers, both global and local, allows us to maximize coverage and decision-making capabilities. The vast range of enterprise APIs allows wide margins for customizing the platform. The Trade Desk is headquartered in Ventura, CA (USA) and has offices in North America, Asia-Pacific and Europe. In Italy the company is based in Milan and is led by general manager Angela Bersini.
Full press release at this link:
https://investors.thetradedesk.com/news-events/news-details/2023/The-Trade-Desk-Reports-Third-Quarter-2023-Financial-Results/default.aspx
.
Press office The Trade Desk in Italy
Purple & Noise PR
ufficiostampa@purpleandnoise.com
Share
Articoli correlati
About Author
(0) Readers Comments