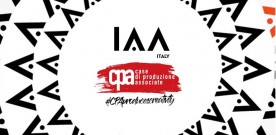 ilan, February 2023 – CPA Case di Produzione Associate, the Italian association of advertising production companies, joins IAA – International Advertising Association Italy, the largest world community of marketing and communication leaders. A significantly relevant step, probably unique in its kind, in the communication industry that gives value to both associations and their respective associates.
"From our observatory, the communication chain is getting shorter and shorter and – explains Stefano Quaglia, director of CPA – production companies are increasingly partners with agencies and customers. This gives meaning to our entry into an Association that brings together agencies, clients and communication professionals. Furthermore – continues Stefano Quaglia – this membership, stimulated and supported also by my colleague Debora Magnavacca who knows the work of IAA Italy well, also allows all our associates and the talent they share, a Made in Italy talent increasingly appreciated by all the latitudes, an international limelight that today in Italy, in the associative panorama of communication, only the IAA offers".
"Today is a great day – begins Marianna Ghirlanda, president of IAA Italy – the entry of CPA honors and thrills us. Our statute provides that individual professionals, companies, but also organizations, institutions and associations can join the IAA. Our goal – continues the president of IAA Italy – is in fact to make our community grow, already present in 56 countries around the world and which will soon be preparing to celebrate its world congress in Malaysia. We want to generate opportunities for associates, whether they are corporate or professional, not only in terms of networking and international relations, but also in terms of culture, communication, training, innovation, progress and support for topics such as D&I, which we pursue locally and globally" concludes Marianna Ghirlanda.
"In fact, the international coté and the CSR programs carried out by the IAA, such as for example Human Being, aimed at making society aware of the issue of respect and dignity of the human being, represent aspects on which our association is particularly sensitive and on which we would very much like to be able to contribute to" adds and concludes Stefano Quaglia
Share
Articoli correlati
About Author
(0) Readers Comments