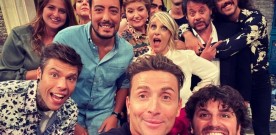 Milan, 22 December 2021 – Amici di Maria De Filippi, Big Brother (Mediaset), Sanremo Festival, Che Tempo che Fa (Rai), Lol and The Ferragnez (Prime) are the most social programs of 2021. from the daily survey of Social TV carried out on 45 broadcasters in Italy by Talkwalker, a multinational of Social and Consumer Intelligence. Through its Social Content Ratings ™ platform, Talkwalker monitors the Italian market, tracking interactions on social networks concerning the television offer and streaming providers in Italy.
The general ranking 2021 (period 1 January – 15 December 2021), that is the one that detects the total number of interactions over the year regardless of the number of episodes actually broadcast, sees in first place Amici di Maria De Filippi (Mediaset) which in 183 episodes totaled 152,374,000 interactions (4,139,000 on Facebook, 121,614,000 on Instagram, and 26,053,000 on Twitter), followed by Big Brother Vip (Mediaset) which added up all its 41 episodes totaled 104,673,000 overall interactions in the 2021 (23,159,000 on Facebook, 20,139,000 on Instagram and 1,908,000 on Twitter) and therefore in third place Che Tempo Che Fa (Rai) which in the 31 episodes totaled 45,268,000 interactions of which 23,159,000 registered on Facebook , 20,139,000 on Instagram and 1,908,000 on Twitter. In fourth place is the Sanremo Songs Festival which, in the 5 evenings of broadcasting, records a total of 36,067,000 interactions (3,459,000 on Facebook, 21,150,000 on Instagram and 11,350,000 on Twitter): "The Festival more social than ever according to RAI executives, – explains Stefano Russo, Talkwalker Sales Director Media & Sports – given that it is confirmed by the data that we have measured for the Italian market since 2015 ".
.
AMONG THE 'OCT', THE FERRAGNEZ ARE HIGH ON THE COMEDIANS OF "LOL" AND ON "THE PAPER HOUSE"
Among the programs aired on the meaningful streaming platforms, the performance of the series "The Ferragnez" (Prime Video) which in just 33 days in which it was monitored, stands out among OTT publishers, that is all those broadcasters that offer content via the Internet, with a total of 8,429,100 interactions of which 6,550 on Facebook, 8,360,700 on Instagram and 61,100 on Twitter, followed by the format "LoL – Who laughs is out" (Prime Video) which in the year totaled 7,982,000 total interactions of which 331,400 on Facebook, 7,284,600 on Instagram and 313,000 on Twitter. In third place is "La Casa di Carta", the Netflix serie which records 6,684,000 total interactions, of which 126,200 on Facebook, 6,177,000 on Instagram and 321,000 on Twitter.
TG ALLNEWS: SKYTG24 WINS 2021
If, on the other hand, the three main news channels are examined, SkyTG24 brings home 6,553,000 interactions (of which 11,209,000 on Facebook, 23,811,000 on Instagram and 1,532,000 on Twitter), on Mediaset TgCom24 with 24,396,000 interactions ( 14,115,000 on Facebook, 9,021,000 on Instagram and 1,226,000 on Twitter) and therefore RaiNews24 with 2,686,000 interactions of which 1,487,000 on Facebook, 657,000 on Instagram and 542,000 on Twitter.
"As a final figure, we note that in the course of 2021 the interactions relating to the contents transmitted by the 45 broadcasters and OTTs that we monitor daily – explains Stefano Russo of Talkwalker – were 690 million, compared to 555 in 2020 and 345 in 2019, representing a trend that outlines the scenario of television in the coming years ".
.
Press office, Talkwalker (Italy):
Purple & Noise PR
ufficiostampa@purpleandnoise.com
Share
Articoli correlati
About Author
(0) Readers Comments