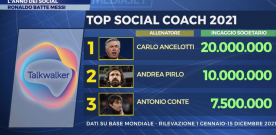 Milan, 28 December 2021 – Portuguese superstar Cristiano Ronaldo, Manchester United striker and captain of the national team is the most social footballer of 2021. In second place, freshly won the Ballon d'Or, is Lionel Messi, followed (further away) by Neymar who closes the podium.
This is what emerges from the annual Soccer 2021 monitoring by Talkwalker, a multinational global leader in Social and Consumer intelligence, which monitors and measures the main federations, teams and athletes globally on a daily basis in terms of presence and interactions (engagement) on social networks.
Cristiano Ronaldo, in fact, this year (survey period: 1 January – 15 December 2021) totaled 2.1 billion social interactions worldwide, of which 340 million on Facebook, 1.7 billion on Instagram and 28 million on Twitter . In second place, the eternal rival Lionel Messi with 1.1 billion interactions divided only between Facebook (192 million interactions) and Instagram (972 million). The Brazilian champion, Messi's teammate at Paris Saint-Germain, Neymar closes the podium with a total of 751 million interactions in 2021.
"Those of Ronaldo, Messi and Neymar, but not only, have been extraordinary results – comments Stefano Russo, Talkwalker Sales Director Media & Sports – who also make a strong contribution to the results in terms of social media to their clubs but also to the Leagues in which ones play. It is no coincidence that Paris Saint-Germain which, in addition to Messi and Neymar, also field Mbappè, in fourth place in the ranking of players with 397 million interactions, is second in the 2021 social ranking reserved for clubs."
.
IN SERIES A DYBALA AND IBRAHIMOVIC STAND OUT. ITALIANS BETTER ON THE FIELD THAN SOCIALS.
Excluding Ronaldo, who, as is known, moved to Manchester United (who also jumped to first place in the social ranking by club), in our Serie A the most social player of 2021 is Paulo Dybala of Juventus, who occupies the 9th position. in the standings with 148 million total interactions and the AC Milan player Zlatan Ibrahimovic who follows him close by placing himself in 12th position with 124 million total interactions.
The Italian football players, on the other hand, seem not to shine particularly when it comes to social performance: in fact, it is necessary to go down to 51st place to meet the first of the Italians who is Leonardo Bonucci (39 million interactions in 2021), and then continue to 65th with Enrico Chiesa (32 million interactions / year), to sink to 78th and 79th place with Giorgio Chiellini and Gigi Buffon with respectively 27.4 million and 27.2 million interactions.
.
CARLO ANCELOTTI IS THE MOST SOCIAL COACH IN THE WORLD IN 2021.
AND THE MOST SOCIAL 'CHAMPIONSHIP' OF THE MISTERS IS ALL ITALIAN WITH PIRLO (2nd) AND CONTE (3rd) ON THE PODIUM
Talkwalker's surveys, collected globally throughout 2021, illustrate that Carlo Ancelotti, now at Real Madrid, as well as Everton's coach last season, is the most social manager of 2021, with over 20 million social interactions a worldwide, of which 5.6 million on Facebook, 12.8 million on Instagram and 1.9 million on Twitter. In second place Andrea Pirlo, who despite not currently working for any team, proves to have kept his superstar polish on social media with 10 million interactions (of which just over 2 million on Facebook, 7.8 million on Instagram and 354,000 on Twitter) Antonio Conte, currently at the helm of Tottenham, is on the third step of the podium with a total of 7.5 million interactions.
"A blue hat-trick – underlines Stefano Russo, Talkwalker's Sales Director Media & Sports – that leaves the crumbs to the other coaches. Fourth in the standings, Aston Villa manager Steven Gerrard, in fact, did not even exceed one million interactions (952,000). Applause, on the other hand, for Andriy Shevchenko who on his debut as a coach in the Serie A championship with Genoa is ranked 6th with over 600,000 interactions, preceding illustrious and long-time names such as Pep Guardiola (299,000 interactions), Rudi Garcia (41 thousand interactions) and the special one José Mourinho (4.9 thousand interactions) ".
Press officeTalkwalker|Italy:
Purple & Noise PR
ufficiostampa@purpleandnoise.com
tel. +39 02 45474 006
Share
Articoli correlati
About Author
(0) Readers Comments