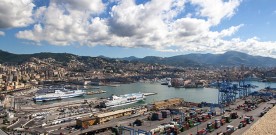 EXPO 2015: FEDERAZIONE DEL MARE PRESENTA LO STUDIO D'APOLLONIA e CENSIS "FEEDING THE PLANET: THE MARITIME ECONOMY CONTRIBUTION
22 giugno 2015
ore 15.00
Palazzo Turati – Via Meravigli 9/B, Milano.
In occasione di Expo Milano 2015, la Federazione del Mare ha voluto uno studio sull'apporto delle attività marittime alla distribuzione e alla produzione di merci alimentari, nel mondo e in Italia.
Questo studio, affidato alla società D'Appolonia per il primo aspetto e alla fondazione Censis per il secondo, ha preso la forma di un rapporto dal titolo Feeding the Planet: the Maritime Economy Contribution', che ben mette in evidenza come il trasporto marittimo di alimenti, la pesca e l'itticoltura rivestano un'importanza cruciale nel rendere possibile lo sviluppo dell'economia agro-alimentare e una soddisfacente nutrizione della popolazione mondiale.
Fra i relatori:
Giorgio BALZARETTI, Membro di Giunta della Camera di Commercio di MIlano
Paolo D'AMICO – Presidente,Federazione del Mare
Giorgio DE RITA - Segretario Generale Fondazione Censis
Andrea FERRARI – responsabile unità Technology adaptation and transfer D'Appolonia
Hassan ABOUYOUB - ambasciatore Regno del Marocco
Felicio ANGRISANO – comandante Generale Capitanerie di Porto – Guardia Costiera
Zakia DRIOUICH- segretario Generale, Dipartimento Pescamarittima Regno del Marocco.
Luca FLORENZANO - Direttore, Marine Claims SIAT
Riccardo FUOCHI – Presidente, International Propeller Clubs – Port of Milan
Luigi GIANNINI – Vicepresidente Federpesca
Paola IMPERIALE – coordinatrice Mare, Ministero Affari Esteri
Umberto MASUCCI – Vicepresidente, Federazione del Mare
Irene RIZZOLI, Imprenditrice Rizzoli Emanuelli
Roberto ZUCCHETTI – Coordinatore Area Trasporti Certet Bocconi
E'stato invitato a concludere il Ministro delle Politiche Agricole, Alimentari e Forestali,Maurizio Martina
PER ACCREDITI: alessandro.bono@purpleandnoise.com
Share
Articoli correlati
About Author
(0) Readers Comments