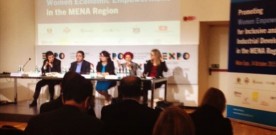 .
CONFERENZA INTERNAZIONALE
"Promoting Women Empowerment for Inclusive and Sustainable Industrial Development in the MENA Region"
L'IMPRENDITORIA FEMMINILE FATTORE CHIAVE PER LO SVILUPPO E LA CRESCITA DELLA REGIONE DEL MEDITERRANEO

Milano, 14 ottobre – Si sono aperti questa mattina, presso l'Expo 2015 di Milano i lavori della Conferenza internazionale "Promoting Women Empowerment for Inclusive and Sustainable Industrial Development in the MENA Region", sulla necessità di promuovere, sostenere e accrescere il ruolo dell'imprenditorialità femminile nella Regione del Nord Africa e Medio Oriente, nonché sulle opportunità di collaborazione tra Italia e Mediterraneo e su progetti concreti per lo sviluppo industriale e l'empowerment delle donne imprenditrici
La Conferenza è organizzata da UNIDO – United Nations Industrial Develpoment Organization, Ministero Italiano degli Affari Esteri e della Cooperazione Sociale, le Associazioni No Peace Without Justice e Woman for Expo - in collaborazione con Promos, Azienda Speciale per le Attività Internazionali della Camera di commercio di Milano – insieme alle associazioni della Regione MENA AWTAD Association for Women's Total Advancement and Development (Egitto), BPW-A Business & Professional Women Amman (Giordania), Al Majmoua (Libano), AFEM Association des Femmes Chefs d'Enterprises du Maroc (Marocco), BWF Business Women Forum (Palestina) e Femme set Leadership (Tunisia).
"In una economia globale la figura della donna imprenditrice ha l'opportunità di essere maggiormente valorizzata – ha dichiarato Elena Vasco, Segretario Generale della Camera di commercio di Milano – In questo contesto diventa sempre più rilevante il dialogo con le aree del Medio Oriente e Nord Africa per consolidare e sviluppare relazioni economiche e culturali. La Camera di commercio di Milano, attraverso Promos, da tempo favorisce la collaborazione industriale e commerciale con queste aree per rafforzare il ruolo strategico di Milano come ponte tra Nord Europa e Mediterraneo dove l'imprenditoria femminile può e deve essere protagonista".
L'area dei paesi del Nord Africa e Medio Oriente (MENA) detiene un tasso di disoccupazione femminile che raggiunge il 40%, il più alto di ogni altra Regione nel mondo. Allo stesso tempo, l'area possiede la più bassa percentuale di donne imprenditrici (il 12-15% rispetto al 31-38% dei Paesi emergenti).
In questo scenario, rimuovere urgentemente le cause che creano uno stallo all'emancipazione professionale femminile nei paesi del Nord Africa e Medio Oriente, rappresenta un punto focale dello sviluppo sia della condizione della donna che dell'intero sistema economico di questi paesi.
Molti studi confermano infatti, che l'incremento della presenza di donne a livelli più elevati nel sistema economico ha diretto e positivo impatto sulla crescita percentuale del PIL.
Alla conferenza odierna partecipano, tra gli altri: Emma Bonino, fondatrice dell'organizzazione internazionale Non C'è Pace Senza Giustizia, il Ministro degli Esteri e della Cooperazione Sociale Paolo Gentiloni, Mohamed-Lamine Dhaoui, Direttore Business, Investment and Technology Service di Unido, Paola Ravacchioli, European Investment Bank, Delphine Borione, Segretario Generale Deputato di Social and Civil Affairs, Marta Dassù, Presidente Esecutiva di Women for Expo, ministri e rappresentanti dei governi dei Paesi Mena, oltre ad un'ampia rappresentanza delle Associazioni internazionali attive sul tema, imprenditrici in rappresentanza dei paesi coinvolti.
Il giorno successivo, giovedì 15 ottobre a Milano presso il Grattacielo Pirelli è invece organizzata una giornata dedicata ai B2B, volta a avvicinare e stimolare i rapporti di affari tra le aziende del Mediterraneo e italiane, mentrevenerdì 16 la delegazione visiterà 3 centri d'eccellenza italiani: il Parco Tecnologico Padano di Lodi, l'Associazione Orafa di Milano e Distretto Tessile di Como.
.
.
Per informazioni:
Purple & Noise PR
staff@purpleandnoise.com
Share
Articoli correlati
About Author
(0) Readers Comments