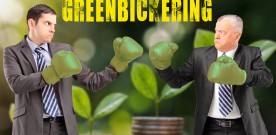 It is called greenbickering, , the new phenomenon with which companies, public opinion, administrators and above all judges and courts will have to become familiar. "That is – explains Rita Santaniello, lawyer of the multinational firm Rödl & Partners in the conference organized by Economy magazine on the subject of greenwashing – the practice for which a company can take action against a competitor for unfair competition where it deems it uses the lever of corporate sustainability improperly to improve its perception towards the market and consumers and therefore to sell more".
There are more and more uncontrolled cases of so-called greenwashing, i.e. misleading communication centered on respect for the environment which is only a facade, which makes a product or the brand itself appear more 'green' than it actually is – as many as 60% of companies would have fallen at least once into invalid or misleading green-footprint communications (Nielsen data) – "this is because ecological sensitivity, especially in Western countries, has developed to the point of determining consumer purchasing behavior or even increasing the value of the brand or of the company, as confirmed by many studies" explains the lawyer.
A survey conducted by the European Commission, by the national consumer protection authorities together with other international authorities, under the coordination of the Ipcen (Consumer Protection and Enforcement Network) highlighted in 42% of cases the authorities considered the communications misleading and untruthful green, and thus put in place unfair trading practices. In over 50% of cases, companies have not given consumers sufficient information to evaluate what they have communicated on the subject of eco-sustainability; in 37% the claim contained generic formulations, such as 'environmentally friendly', or 'eco' and in 59% of cases no elements were explained to support what was declared.
PressOffice  Rodl & Partner in Italy:
Purple & Noise PR
Share
Articoli correlati
About Author
(0) Readers Comments