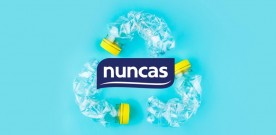 Milan, 9 May 2023 - Nuncas, the Italian brand of reference in the home care sector, is rapidly continuing its path of attention to the environment, which started more than 20 years ago, announces that by the end of 2023 it will reach the 50 % of recycled plastic for the creation of its bottles and aims to reach 100% in 2024, in fact almost doubling the EU target and well ahead of 16 years.
The proposal for a Regulation of the European Parliament and of the Council on packaging sets the minimum recycled content at 35% starting from 2030 to reach 65% in 2040.
"We are really proud of this green roadmap that we wanted to give ourselves – explains Aurelio Manzoni, Sustainability Manager of Nuncas – without delays and expectations in relation to the deadlines imposed by the European legislator. Ours is also a stimulus and an invitation to all large or small entrepreneurs to raise the bar and accelerate the ecological transition according to their own possibilities and abilities, without postponing and without waiting for laws and regulations"
"Those who can do it immediately – continues Aurelio Manzoni – and not only the planet will be grateful to them, but also consumers and civil society. And even the budget will smile, because if it is true that certain changes in a green key can represent extra costs, just like those we bear in purchasing semi-transparent and white post-consumer recycled plastic (PCR), in the medium term these will turn into benefits, also in terms of the company's income statement".
.
Nuncas press office
pressoffice@purpleandnoise.com
Share
Articoli correlati
About Author
(0) Readers Comments