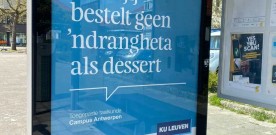 The Association of Italian advertisers against the creators of the campaign, and even more towards the University and the Belgian local authorities who have allowed the posting of it "Who made it like those talentless comedians who have to resort to vulgarity to snatch half laugh"
"It is stunning that in 2020 we still have to observe style drops like that of a University a few kilometers from Brussels, or in the institutional epicenter of a pulsating, all-encompassing, inclusive and multiracial Europe, which leverage negative stereotypes, harmful to the dignity of a people, in this case ours – comments Vicky Gitto president of the Italian ADCI Art Directors Club, the association of Italian advertisers – to sell some language courses ".
In fact, a few hours ago an advertising campaign commissioned by the oldest University of Leuven in the country (1425) has stood out on the streets of Brussels and surroundings, which in reciting "So you will no longer order a 'Ndrangheta for dessert" intends to promote language courses , Italian.
"Regarding the 'minds' that have conceived and created it – continues Vicky Gitto, who is also one of the most awarded international creatives – I would say that they are a bit like those psycho-comedians who, short of talent and ideas, rely on beats vulgar to 'pick up' some half laughs. If anything, it is embarrassing that the client is a University, and not of a 'banana republic', but of a civilized and evolved country that founded a united Europe with Italy, which, moreover, strengthened by its secular past, presents itself as a of the most important in the world. All seasoned with the clear consent of the local authorities who authorized its posting ".
"I believe – continues the president of Italian advertisers Vicky Gitto – that if this 'thing' could make us Italians a little angry, and certainly all our compatriots who work there, so not only students, bakers, engineers, but also compatriots like for example, a certain David Sassoli, also an 'employee' in those parts, should on the other hand embarrass academics, authorities and the many good Belgian citizens. Since this idea makes fun of us, but basically humiliates them all ".
On behalf of the Italian advertisers, the ADCI suggests to the Belgian authorities a decisive distance.
Share
Articoli correlati
About Author
(0) Readers Comments