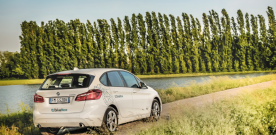 (PRESS RELEASE) Milan 12 July 2018 – DriveNow, the car sharing of the BMW Group present in Milan with 500 cars between BMW and MINI, in view of the imminent holiday departures – where most Italians will move by car – and in front of the 'need for many families and couples and groups of friends to travel in a car in conditions of better health, size and displacement, open to weekly car sharing with a 7-day offer, including fuel.
 "It is an experiment that incorporates the need of families, couples or groups of friends who – explains Andrea Leverano, managing director of DriveNow in Italy – having planned their holidays in the many beautiful Italian locations are faced with the problem of not have a car that is sufficiently adequate for both conditions and size and displacement ".
 In this way, starting from July 14th to September 3rd, it will be possible to reserve spacious BMW 2 Series Active Tourers where you travel with different occupants and lots of luggage, or to the tasty and, considering the season required, BMW or MINI Convertible. Details of the offer on the website www.drive-now.it
.
.
DriveNow Italy
Press Office
Purple & Noise PR
ufficiostampa@purpleandnoise.com
Share
Articoli correlati
About Author
(0) Readers Comments