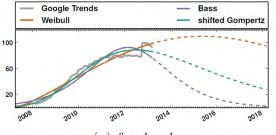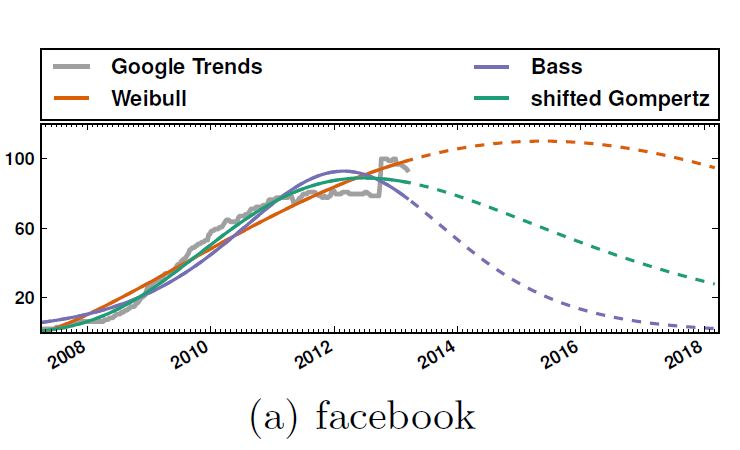 Secondo lo studio "Strong Regularities in Growth and Decline of Popularity of Social Media Services" ,(http://arxiv.org/pdf/1406.6529v1.pdf) condotto da Christian Bauckhage dell'Università di Bonn e da Kristian Kersting dell'università di Dortmund, l'attenzione – e quindi l'uso – da parte degli utenti dei social network ha raggiunto il suo picco e si appresta ad un trend discendente.
Lo studio prende in esame soprattutto Facebook, Twitter e YouTube, nonche altri "social". In realtà lo studio non si basa direttamente sugli utenti che utilizzano i servizi in questione ma su coloro che su di essi effettuano ricerche su Google. Ciò invero potrebbe essere abbastanza deviante in quanto l'accesso ai social avviene ormai direttamente. Ad ogni modo attraverso i dati Google Trends, la funzionalità che permette di monitorare l'andamento delle ricerche online, gli autori della ricerca hanno osservato 175 social media in 45 Paesi differenti analizzando la loro evoluzione nel tempo.
.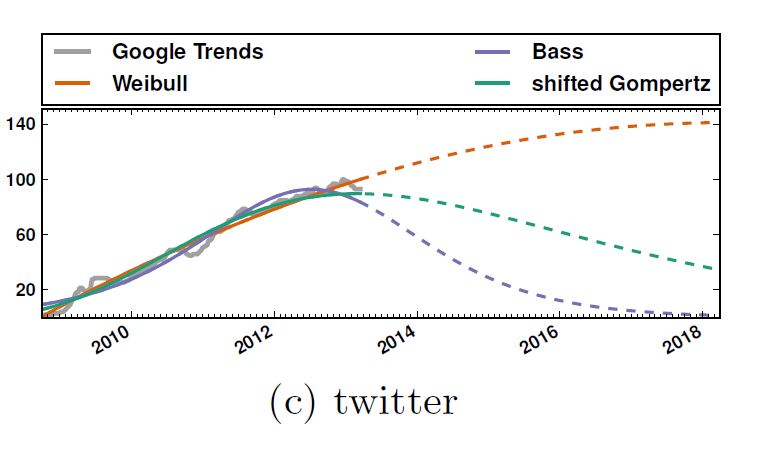 .
Quello che hanno scoperto è che le tendenze delle ricerche web sono coerenti con alcuni modelli statistici chiamati "di diffusione" usati spesso in economia per indicare i comportamenti di acquisto o l'adozione di servizi. Sulla base di questi modelli, hanno poi effettuato delle previsioni. Il risultato, come accennato, dice che per Facebook potrebbe essere iniziata la fase del declino, almeno per quanto riguarda uno dei modelli impiegati, quello chiamato "Shifted Gompertz" che, nel complesso, è risultato il più aderente ai dati raccolti. La conclusione, dicono gli autori, può sembrare "improbabile" ma è coerente con i cicli di ascesa e discesa mostrati dai social media e rivelati dalla ricerca, cicli che anche "Facebook sembra seguire".
Invece per quanto riguarda Amazon, che in realtà non rientra nella famiglia dei social ma che evidentemente è stato esaminato come fenomeno web a livello globale, le prospettive sono di crescita.
(Fonte: SkyTg24 http://tg24.sky.it/tg24/economia/2014/07/18/facebook_youtube_twitter_studio_utenti_declino.html )
Share
Articoli correlati
About Author
(0) Readers Comments