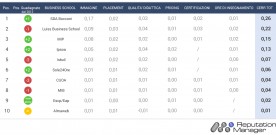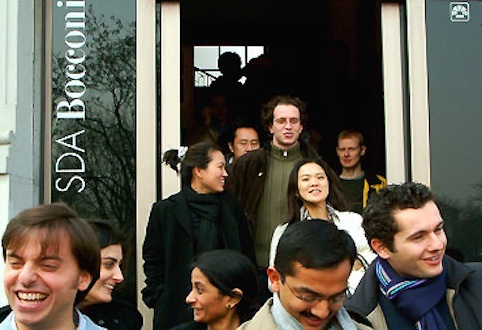 Milano, 13 giugno 2013 – Sono SDA Bocconi, Luiss Business School e MIP School of Management del Politecnico di Milano le business school italiane con la migliore reputazione online.
Questo è quanto emerge dall'indagine sull'"Identità digitale delle Business School italiane" condotta per il secondo anno consecutivo da Reputation Manager, il principale istituto italiano nell'analisi della reputazione online dei brand e delle figure di rilievo pubblico, che attraverso il calcolo del CERR® (Coefficiente Effettivo del Rischio Reputazionale) – ovvero un indice di misurazione della reputazione in una scala da -5 (pessima) a +5 (ottima) – ha misurato la reputazione di ciascuna Scuola di formazione manageriale, stilandone l'annuale classifica.
E SDA Bocconi ottiene coefficiente reputazionale (CERR®) di 0,26 che la colloca al primo posto nella classifica 2013, seguita da Luiss Business School con un punteggio di 0,22, mentre il MIP, School of management del Politecnico di Milano, si colloca al terzo posto con uno score di 0,15. Il risultato di quest'anno segna così un avvicendamento al vertice laddove nella classifica del 2012 le prime due posizioni erano invertite.
Bene il MIP che invece guadagna due posizioni (nel 2012 era al 4° posto). Scorrendo la classifica 2013 al quarto posto si posiziona l'IPSOA con un CERR di 0,13, seguita da ISTUD Business School al quinto con un punteggio di 0.07 e in sesta posizione la Scuola di Formazione del Sole 24 Ore (0,06) L'indagine è stata condotta prendendo in esame diversi parametri caratterizzanti ogni business school ed in particolare la "capacità di placement" (concretizzazione stage o lavoro), "quality" (corpo docente, qualità dei corsi, programma, didattica, ecc.), "pricing" (costo), "immagine" (internazionalità e notorietà), "certificazioni" (da parte di Enti), "ore d'insegnamento".
In rapporto a questi parametri i ricercatori del Reputation Manager hanno analizzato il web ed in particolare portali tematici e professionali, testate online e siti di news, video, blog, social network, nonché commenti opinioni e recensioni – sintetizzando in un Coefficiente Effettivo di Rischio Reputazionale (CERR), ovvero un indice in una scala da -5 (pessima reputazione) a +5 (ottima reputazione), la valutazione per ciascuna Scuola. Ne originano due classifiche: una per "reputazione online", elaborata sulla qualità delle conversazioni, e una per "visibilità online" (quantitativa).
Ecco le migliori 10 per "reputazione online"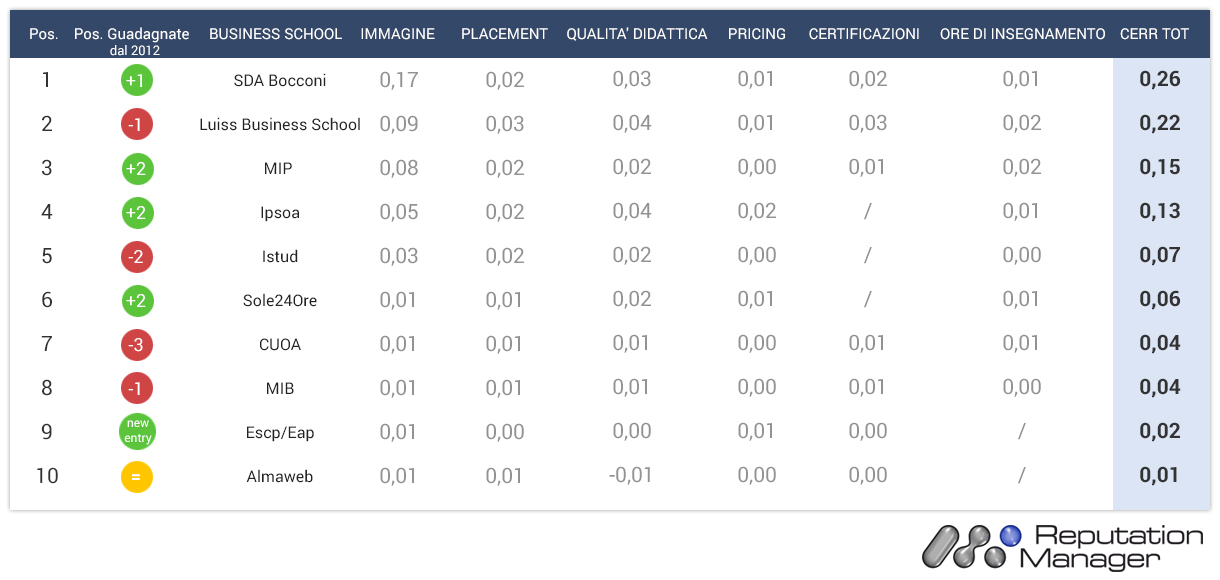 Ed ecco la TOP 10 per "visibilità on line":
1 SDA Bocconi 20,91%
2 Luiss Business School 19,86%
3 IPSOA 13,94%
4 ISTUD 8,71%
5 MIB 5,92%
6 IFOA 5,57%
7 Formazione Sole 24 Ore 3,83%
8 CUOA 3,48%
9 ESCP/EAP 2,09% 10 Almaweb 1,05%
In termini di presenza sui social network, tra i contenuti sono stati rilevate oltre 120 fan page ufficiali e non attive sulle scuole. Gli istituti più "social" sono ESCP Europe e CUOA entrambi con oltre 12.000 fan sulla home page di Facebook e rispettivamente oltre 7.500 like e 5.600 like ai post/commenti degli amministratori. Seguono ESPC Europe Torino Campus con oltre 9.500 fan sulla pagina di Fb (ma solo 815 commenti/post) e MIB con oltre 6700 fan e oltre 4.800 like ai post/commenti degli amministratori.
"Attraverso l'analisi delle conversazioni osserviamo che i parametri che più di tutti contribuiscono alla formazione di una reputazione positiva online – spiega Andrea Barchiesi, CEO di Reputation Manager - sono l'immagine, ovvero la notorietà positiva che le business school detengono presso l'opinione pubblica , la qualità didattica e la maggiore facoltà di aprire le porte del mercato del lavoro".
Quello che osservano i ricercatori del Reputation Manager è però un generale allineamento della reputazione delle business school verso lo zero, che disegna perciò un giudizio di generale neutralità. "Non vi è quindi in Italia una scuola di formazione manageriale propriamente leader in termini di reputazione online – commenta Andrea Barchiesi – I distacchi tra l'una e l'altra sono molto ravvicinati. Quindi l'Istituto che prima e meglio degli altri saprà lavorare in maniera consistente sulla propria immagine e presenza sulla rete ed in particolare sui social network, YouTube, Facebook e Twitter, con l'obiettivo di raggiungere un CERR di 2,0 o superiore, accumulerà un vantaggio competitivo che, oltre che in termini di awareness, saprà garantirgli tangibili benefici in termini di business".
.
.
Ufficio stampa Reputation Manager
Purple & Noise PR
ufficiostampa@purpleandnoise.com
Reputation Manager (www.reputazioneonline.it) è il principale istituto italiano nell'analisi della reputazione online dei brand e delle figure di rilievo pubblico. Fondato nel 2004 da Andrea Barchiesi, Reputation Manager è la prima società ad aver introdotto in Italia il concetto di "ingegneria reputazionale". Opera attraverso un software e una metodologia proprietaria e sviluppa strategie e strumenti d'intervento per la tutela e il miglioramento della web reputation di aziende, organizzazioni e individui. Nel 2011 ha vinto il Premio Nazionale dell'Innovazione conferito dal Presidente della Repubblica Giorgio Napolitano. Nel 2012 ha introdotto sul mercato AudiSocial Tv® (www.audisocialtv.it) , che misura le performance dei programmi televisivi sul web, WebPolitics® osservatorio permanente sulla web reputation dei personaggi politici italiani e My Reputation®(www.my-reputation.it) il primo sito italiano per monitorare la propria identità digitale.
Share
Articoli correlati
About Author
(0) Readers Comments