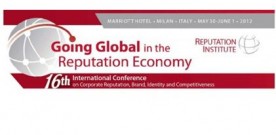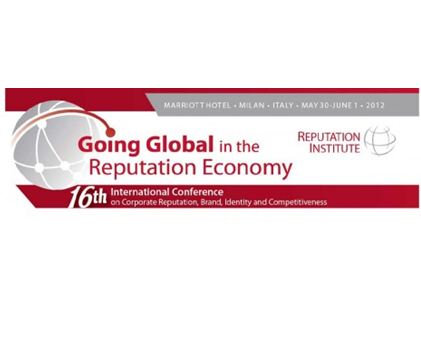 The 16th International Conference on Corporate Reputation, Brand, Identity and Competiveness takes place in Milan, joining together 300 communication managers of  the biggest Companies in the world.
Milano 29 Maggio 2012 – Sono oltre 300 i delegati che in queste ore stanno arrivando a Milano per prendere parte alla 16ma Conferenza Internazionale del Reputation Institute, la principale organizzazione a livello mondiale nel settore della corporate reputation con sede a NYC e presente in 30 paesi nel mondo, che avrà luogo dal mercoledì 30 maggio a venerdì 1 giugno.
Tra gli speaker i "numeri uno" della comunicazione delle principali aziende a livello mondiale come ad esempio: Luis Abril, President Corporate Excellence di Telefónica, Marc Budenbender, Head of Communication di UBS, Eraldo Carneiro, Corporate Communications Senior Manager di Petrobras, John McLaren, CCO di AkzoNobel, Angel Pes, Corporate Responsibility Director di CaixaBank, Kåre Schultz, Executive Vice President and COO di Novo Nordisk, Anne-Marie Skov, Senior Vice President of Corporate Communications & CSR di Carlsberg Brewery Group, Raj Subramaniam, Senior Vice President for Global Marketing FedEx .
Confermata la presenza dei fondatori del Reputation Institute Charles Fombrun e Cees B. M. van Riel e degli executive partners Nicolas Geroges Trad e Kasper Ulf Nielsen. Farà gli onori di casa Michele-Tesoro Tess, Managing Director di Reputation Institute Italia.
Per quanto riguarda il nostro paese l'Italia è rappresentata da una ristretta selezione di manager della comunicazione tra cui Anna Adriani, Global PR & Corporate Responsibility Director illycaffé, Filippo Bettini, Sustainability and Risk Governance Director Pirelli, Antonella Massari, Senior Executive Vice President of Group Stakeholder & Service Intelligence UniCredit, Raoul Romoli Venturi, PR Director di Ferrero, Patrizia
Rutigliano, SEVP Communications and Public Affairs of Snam and President of FERPI, Luca Virginio, Group Communication & External Relations Director Barilla.
La Conferenza nell'edizione di quest'anno si focalizzerà sulla reputazione quale fattore chiave per incrementare o difendere la competitività delle aziende sul mercato globale, ma anche su quali sono le sfide che le aziende debbono affrontare per esportare la propria reputazione. Nell'economia globale le azioni e la comunicazione delle multinazionali devono confrontarsi con determinanti fattori locali di diversità e distanza culturale, nell'organizzazione, ordinamento sociale e modalità di business.
Sono previste inoltre sessioni verticali come quella dedicata all'importanza della reputazione e del brand per  le "location", con uno specifico approfondimento su Milano e Expo2015, con gli interventi di Franco D'Alfonso, Assessore al Commercio, Attività produttive, Turismo, Marketing del Comune di Milano e di  Shelly Sandall Direttore Marketing di Expo2015; di grande interesse considerata l'imminenza di quello che è a buon titolo uno dei più importanti ed attesi eventi che avverranno a Milano nel prossimo futuro.
La Conferenza è organizzata con il contributo di Global Alliance e FERPI, rispettivamente associazioni mondiale e italiana dei professionisti delle relazioni pubbliche, Doxa e SDA Bocconi. Molte anche le rappresentanze di diverse università nel mondo.
.
Programma, speaker e dettaglio degli interventi su:
www.reputationinstitute.com/conferences-events/annual-global-conference
.
Reputation Institute Reputation Institute (www.reputationinsititute.com) è la principale organizzazione a livello mondiale nel settore dello studio e gestione della reputazione aziendale. Fondato nel 1997 e oggi presente in 30 paesi nel mondo è pioniere nel mercato del reputation management. Attraverso un'attività di ricerca e analisi Reputation Institute supporta le aziende nel definire le più opportune strategie e le azioni più efficaci per creare una sintonia tra azienda e stakeholder, generando un tangibile beneficio economico.
.
Ufficio Stampa Reputation Institute Italy:
Davide Ciliberti
Purple & Noise PR
ufficiostampa@purpleandnoise.com
tel. 02.89076.900
.
Share
Articoli correlati
About Author
(0) Readers Comments