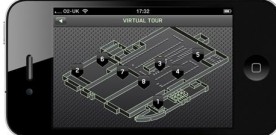 • British marque launches new app; Aston Martin 'Explore'.
• Developed in conjunction with Aston Martin's design and engineering teams, the app offers a unique insight into the company.
• App available to download for free from 22nd December in the iTunes App StoreTM, with premium 'Experience' app and iPadTM app to follow in early 2011.
Gaydon, 22 December, 2010 – Developed with the same ethos with which Aston Martin design and engineer their cutting edge race and road going cars, the British marque announces the launch of its new iPhoneTM app; Aston Martin Explore, designed to bring the exclusive world of Aston Martin to owners and enthusiasts alike through their iPhoneTM or iPod TouchTM.
Developed alongside Aston Martin's design and engineering teams, the content found in 'Explore' reflects Aston Martin's unique approach to automotive manufacture – fusing a strong heritage and traditional craftsmanship with modern leading technology.
The Aston Martin 'Explore' app invites users to discover exclusive content such as a completely authentic virtual tour of the company's Gaydon headquarters in the UK, including design and manufacturing facilities plus access to never before seen images and sound clips.
Outstanding levels of attention to detail have gone in to securing the marques digital stamp, including an acoustically accurate accelerometer and real life content, such as sounds from the entire current model line-up being driven to extreme on the track.
Regular updates will also ensure 'ahead of the curve' technology on all functions featured on the free and premium apps. Push notification will allow users to see all the latest Aston Martin news and exclusive content as well as all updates via the marque's social media presence on Facebook, Twitter and YouTube.
The Aston Martin 'Explore' app will be available to download for free from the iTunes App StoreTM from 22 December, with a version for the iPad to follow in early 2011. The company will also launch a premium Aston Martin 'Experience' app early next year.
http://www.astonmartin.com/eng/astonmartinappexplore/
PR & Press Aston Martin (Italy):
Davide Ciliberti
Purple & Noise PR
ufficiostampa@purpleandnoise.com
Share
Articoli correlati
About Author
(0) Readers Comments