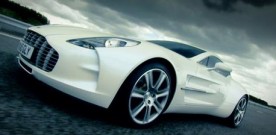 Gaydon, 21 September 2010. Aston Martin's ultimate expression of design, engineering and craftsmanship; the One-77 is being readied for production. The 7.3 litre V12 engine, as part of the development process, has been certified at 750bhp and 750Nm of torque, positioning it as the most powerful naturally aspirated road car engine in the world today.
In the fourth part of the One-77 film series which is released today, Dr. Ulrich Bez, CEO of Aston Martin and Marek Reichman, Director of Design discuss the fundamental elements of what makes the One-77 so unique. The film shows the first complete engineering car in motion on the test track.
The One-77, a sports car of unparalleled beauty with subtle aggression and performance to eclipse any previous Aston Martin road car will be built at the marque's global headquarters in Gaydon, Warwickshire. Over the past nine months, the One-77 has been undergoing Aston Martin's rigorous engineering test programme. The car, despite its exclusive volume of only 77 is being subjected to the same engineering development process as the current range of acclaimed sports cars. This includes extreme hot and cold testing plus sign-off at the Nürburgring Nordschleife; the world's toughest and most unforgiving test track.
In April of this year the One-77 made its on-road debut as part of the Tourist Trophy where it led a parade of supercars taking the Trophy from London's Pall Mall to the Silverstone circuit where it performed some hot laps.
Dr. Ulrich Bez, Chief Executive of Aston Martin said: "The One-77 is approaching a production reality and of course, there is considerable excitement in the project. Now the next steps are all about details and refinement to complete the composition. I know the final car will demonstrate what the Aston Martin team is capable of."
Deliveries of the One-77 are expected to commence in early 2011. For access to the fourth part of the One-77 film series please visit the Aston Martin YouTube channel at: www.youtube.com/astonmartin
PR & Press Aston Martin (Italy):
Davide Ciliberti
Purple & Noise PR
ufficiostampa@purpleandnoise.com
Share
Articoli correlati
About Author
(0) Readers Comments