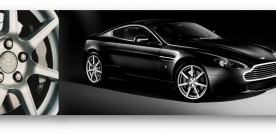 Frankfurt / Main, 12th September 2011.   Aston Martin has developed specifically for the Continental European market a special edition of one of its most successful models, the Aston Martin V8 Vantage. The Aston Martin Vantage 4.7 special edition is offered in a popular specification at an attractive price for a limited period of time.

Since its launch in 2005, the V8 Vantage has become the most successful model developed by the British sports car manufacturer. It is esteemed for its performance and its handling capabilities, expressing its race-bred credentials whilst still perfect for everyday use. Accelerated by its all-aluminium 4.7–litre V8 engine, which delivers 426 bhp and 470Nm to the road, it is capable of sprints from zero to one hundred kph in 4.9 seconds, delivering a top speed of 290 kph, delighting its continuously growing fan base.
Based on this successful foundation, Aston Martin has un-wrapped an irresistible offer. The Aston Martin Vantage 4.7 special edition will be particularly interesting for new potential customers and current owners who have already flirted with the idea of owning a new V8 Vantage. It comes to market in a popular Coupe specification with the 6-speed manual transmission. As an option, customers can also select the Sportshift six-speed automated manual transmission with aluminium shift paddles.
Finished exclusively in Onyx Metallic Black and race-inspired silver grille-surround as a visual highlight, the Aston Martin Vantage 4.7 presents itself in a masculine suite. This is further accentuated by the black mesh bonnet louvers and side strakes, and silver Vantage 7-spoke alloy wheels and grey brake callipers.
The vehicle interior speaks the same language. The interior is dominated by Obsidian Black leather, accented with contrasting silver stitching, and leather seat inserts tailored in black Alcantara.
Anthracite shaded Alcantara also sets the tone for the headlining. The instrument panel is presented in a Gunmetal Alloy design, with the centre console in a Graphite finish. The steering wheel is covered in Obsidian Black Alcantara which completes the aggressive but elegant look of the Aston Martin Vantage 4.7.
Despite the sports character of this special edition, the engineers did not stop short on including comfort features such as satellite navigation system and rear park distance control among a long list of special features. This special model complements the V8 Vantage model line-up, as a number of these standard features are usually only offered as an option or are only available on the
Aston Martin Vantage 4.7 special edition.
In addition, customers have the choice amongst a short list of extra features, such as the Aston Martin 700 Watt Premium Audio System or the 1000 W Bang & Olufsen BeoSound Audio system, Heated Front Seats, Bluetooth Telephone Preparation, Cruise Control, Alarm Upgrade, Auto Dimming Interior Rear View Mirror, Front Parking Sensors and Memory function for both seats and mirrors.
The base net price for the Aston Martin Vantage 4.7 special edition in Italy is €85,061.00 (plus local duties and taxes).
However, this offer is limited – not by quantity, but this time in its availability. The offer on this special edition is only valid from the 13th until the 30th of September 2011. Deliveries to customers will take place before year end 2011.
Jeffrey L Scott, Managing Director Aston Martin Lagonda of Europe, said: "With the Vantage 4.7 special edition we have put our top-seller in an outfit with a special wow-factor. This is a very attractive product and value that should make this special edition not only appealing to existing owners, but also makes the brand irresistible to newcomers."
Info: www.astonmartinmedia.com
PR & Press Aston Martin Italy
Davide Ciliberti
Purple & Noise PR
ufficiostampa@purpleandnoise.com
Share
Articoli correlati
About Author
(0) Readers Comments