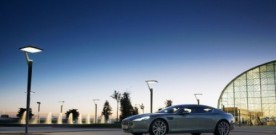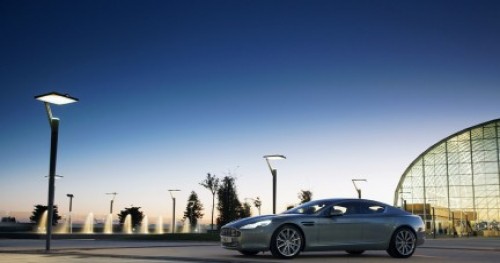 Paris, 5 February 2010 – The Aston Martin Rapide continues to reign as design icon, winning 'The most beautiful Supercar of the Year' award presented at The Festival Automobile International last night in Paris.
The prominent jury chaired by architect Jean-Michael Wimotte and Alain Prost, four times Formula One worldwide champion, awarded the Grand Prize "to the most fascinating project of the year that balanced ingeniously both art and automobile".
Marek Reichman, Design Director of Aston Martin, accepted the limited edition Daum Trophee created by French designer Christian Ghion, saying: "The Aston Martin Rapide is a balance between automotive design art and engineering excellence, a beautifully proportioned and elegant four-door sports car, without compromise – a true icon."
The Aston Martin Rapide won first place with 20.58 per cent of the judges' vote, putting it ahead of the Lamborghini Reventon Roadster, the Mercedes-Benz SL-AMG, the Lexus LFA, Bentley Mulsanne, Ferrari 458 Italia, Jaguar XJ, the Porsche Panamera and the Rolls-Royce Ghost.
The Festival Automobile International is the only competition of its kind in France focused on automobile design and beauty. From diverse backgrounds of motorsports, architecture, fashion, design, art and media professions, the judge's choice was influenced by their perception of which model represented 'the car of exception, the most sublime' from the productions of 2009.
The Rapide, which will be introduced to the market this spring and in celebration of receiving the design award was on display through the night to a guest audience of over 600 selected participants in the prestigious Les Invalides.
-ends-
Further information: www.astonmartinmedia.com
PR & Press Aston Martin (Italy):
Davide Ciliberti
Purple & Noise PR
ufficiostampa@purpleandnoise.com
davide ciliberti
Share
Articoli correlati
About Author
(0) Readers Comments