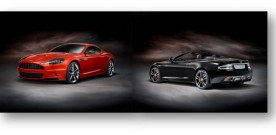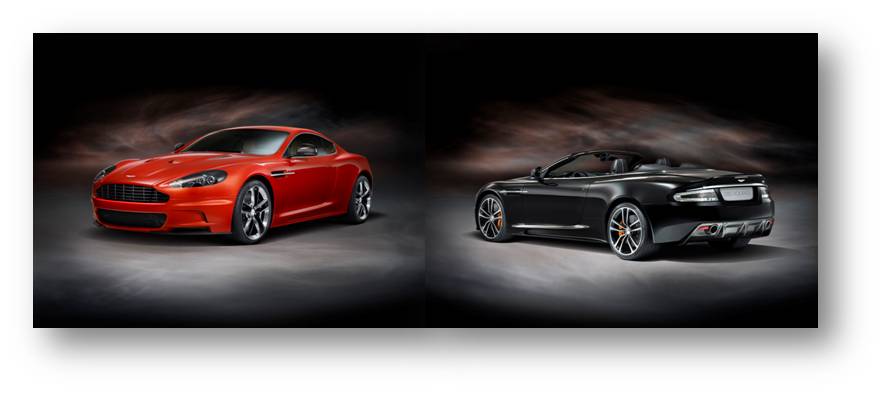 Gaydon, Warwickshire, 12 September 2011.  Aston Martin will premiere two striking new Carbon Edition DBS sports cars at the Frankfurt Motor Show on 13 September 2011. Following on from the success of the DBS Carbon Black, introduced in 2009, the 2011 DBS Carbon Edition will be available in two new colours including Flame Orange and Ceramic Grey together with the existing Carbon Black. Each DBS will undergo Aston Martin's unique paint process receiving seven layers of paint together with a 25 hour hand flat-and-polish finish resulting in a glass veneer normally the reserve of jewellery production.
A first for Aston Martin is the option to specify a satin lacquer paint finish, creating a silk-like texture.
The DBS Carbon Edition features 10-spoke gloss black diamond turned wheels with a reversed diamond turned or full gloss black finish as an option. Complementing the wheels, black brake calipers will be delivered as standard with yellow, orange, red or grey as an option.  Harmonising with the exterior finish is a warm black grille, carbon fibre mirror heads, carbon rear lamp in-fills and smoked rear lights creating a DBS specification like never before.
The cosseting and inviting interior of the coupe plays host to the familiar swathes of obsidian black or maranello orange semi-aniline leather. This type of leather is more natural looking and softer to touch. The interior of a DBS Carbon Edition will take in excess of 70 man hours to hand stitch and finish.
On the DBS Carbon Edition coupe, the headlining is quilted in leather providing a luxurious envelope to the cabin. Immediately distinguishing the Carbon Edition from a standard DBS is the carbon fibre facia with a carbon weave that has been positioned exactly to follow the form of the dashboard. Only by hand can the fibres be laid to create a perfectly aligned weave.
The magnesium alloy paddles that control the Touchtronic II automatic gearbox are tipped with carbon fibre bringing the Carbon Edition direct to the fingertips. A unique carbon fibre special edition sill plaque with laser etched metal inlay completes the specification.
The standard DBS has recently been updated to feature the new Aston Martin Garmin satellite navigation system possessing improved graphics and intuition to provide a sleeker user experience. Beam blade windscreen wipers are also a new feature providing reduced wind noise and a cleaner wipe, even at high speeds.
DBS Carbon Edition prices start at £186,582 (€257,912/$287,576) for the coupe and £196,581 (€272,913/$302,576) for the Volante with customer deliveries expected from quarter one 2012.
- Ends –
About the DBS
The DBS was launched in 2007 and is Aston Martin's ultimate GT sports car. Benefitting from weight saving materials including aluminium and carbon fibre; the DBS offers dynamic and aesthetic purity, an exquisite interior and a driving experience unsurpassed by any other car in its coupe and Volante forms. Its hand built V12 engine produces 380 kW (510 bhp / 517 PS) making it one of the most powerful production cars Aston Martin has ever made. In 2009, the DBS 'Volante' (Aston Martin's nomenclature for convertible) joined the DBS line-up. The DBS has surpassed all sales expectations, and was uniquely launched through the now-famous chase scene in the James Bond film Casino Royale. Since its debut it has firmly established itself as a global favourite among customers, critics and fans alike.
For more information please visit: www.astonmartinmedia.com
PR & Press Aston Martin (Italy)
Davide Ciliberti
Purple & Noise PR
ufficiostampa@purpleandnoise.com
Share
Articoli correlati
About Author
(0) Readers Comments